Jones Family Farms
These are photos of the Jones Family Farms located north of Shelton, CT in White Hills.
The Jones Family is always nice, hospitable and an asset to Shelton's growing community.
They hire young adults from the area to work the farms every year.
There is always plenty of work to be done on a farm.
There are pumpkin fields, strawberry fields, rows and rows of blueberry bushes, and on the hill grows all the varieties of Christmas trees you can think of.
Mr. Jones asked us to come and take pictures of the different seasons at his farm for his children, and these photos are our favorites.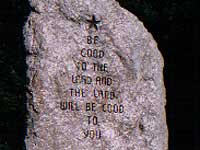 The motto of the Jones Family has been cut in stone, Be Good To The Land, And The Land Will Be Good To You.
They always goes out of their way to make your trip to the farm entertaining and memorable.
Read the history of Jones Family Farms.
---