The Sunnyside Park
Sunnyside has a small beach and has an area for laying a blanket and reading a book.
Very quiet and sort of secluded.
There are several picnic tables, and a path throught the woods.
Some people swim here, but they're not suppose to, so they usually just wade.
You might even think of Sunnyside beach as Shelton's Town Beach, because there really isn't another one.
When high tide comes in, the beach is covered with water.
This is a favorite spot for fishing. These photos were taken in March, so nothing is really blooming yet. It just had a spring thaw.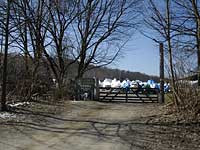 There is a boat launch here, but not much parking. It's a good place to put in a canoe.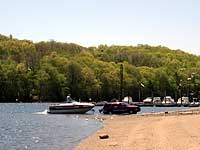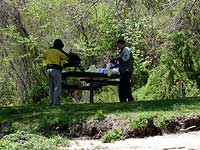 Below is some recent pictures I took, of a boat being launched and a young couple picnicing.
Sunnyside school nearby, teachers bring the students here for field trips in the Spring.
There is a nice club with marina nearby also.
We walked upstream at low tide once, and there was a sunken barge there.
---