The Old Factories in Shelton
Here's some old factories from the 1800's.
There were twelve factories built in Shelton before the 1880's that had a workforce of 1,000 men.
Eight of the old brick buildings are still standing today. Two identical factories were built on either side of the bridge as an entrance to Shelton.
Yes, now the factories are old, and some have been turned into places of storage, but they played such an important part in the history of our little community.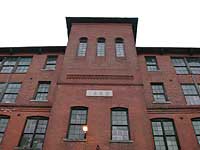 After Mr. Shelton dammed the Housatonic River and built the canal, which wasn't till after the Civil War,
he proceeded to find industries that were willing to build in Shelton, and sometimes even financed their ventures.
Shelton, CT succeeded in becoming an industrial town and boasted a mile of busy brick factories making everything from pins, tacks, bolts, paper boxes, silverplate, a printing press, the famous Huntington piano, and a whole lot more.
By 1910 the population had more than tripled to 5,545 people, and they all lived somewhere close to the factories. Another interesting note, the bars in the downtown area numbered about ten at one time.
I worked for awhile in one of the factories that is still in operation today called Chromium Process. Behind the Chromium Process Plant there used to be an old brick Tiffany factory that was built in the 1920's.
More Pictures of Shelton's Old Factories
- picture of the location of the Chromium Process factory... Chromium Process
- another view of Chromium Process looking from Canal Street south... view looking south

---