The Old Shelton Railroad
The railroads and trestles were laid on the Shelton side of the
Housatonic river
in 1888.
Steam locomotives were used and the train was from New York State.
These pictures were taken in downtown Shelton CT.
People are not suppose to walk across this railroad bridge, but they do anyway, it's sort of a short cut to Derby.
It has steel grates laid out and secured with huge bolts, and even though they are safe when you walk on them, it can be scary.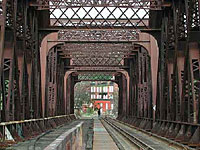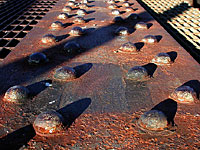 The whole time, you're walking on the bridge you're wondering what you'll do if a train comes. There are two separate tracks laid out, but only one is in use. It was put back into use just within the past couple of years and only runs in the middle of the night.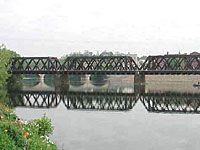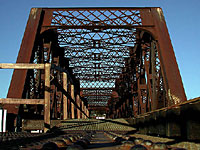 The picture is of the bridge taken from the Shelton Riverfront.
On the Derby side if you follow the tracks there is some great graffiti under the tracks.
A levee was built after the flood of 1955. It's made up of huge stones and they are real hard to walk on.
So even to get down to the water's edge is kind of tricky.
The bottom picture is at a railroad crossing on the Shelton side of the railroad bridge, and a view of Derby from the bridge.
There are several tracks that run through the downtown area and most are still visible through the weeds.
Many have been covered up with asphalt.
The whole area was heavily industrialized in the 1800's because of the Industrial Revolution and most factories were built along the Housatonic River to make use of the water power.
See our old railway postcards and compare them with the way they are now and the way they were.
Railroad Websites
RailroadData.com
Railroads Uconn Resource
Railroad History Database
---