Scenic views of the Housatonic River
These are some of our favorite scenic views of the Housatonic River.
The first picture was taken from the new downtown riverfront, with a view of a neighboring town called Derby
The Housatonic River divides the two towns.
And this is an interesting thing to note about towns in New England, because all the towns sort of butt up to each other.
For instance you can walk across Division Street in Derby, and you're in Ansonia. I found this interesting since I lived in Indiana and all the towns are all spread out.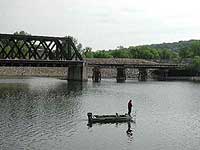 Like you have to drive 20 minutes to reach the next town.
So in Connecticut it can be kind of confusing which town you're in if you're driving around.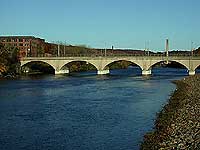 This picture is the Derby Shelton bridge which was built in 1919.
Here's an old photo of the first bridge from Shelton to Derby which was a covered bridge.
---