Shelton Riverfront
Housatonic River
These are the new downtown riverfront pictures taken in downtown Shelton.
Before they made this beautiful riverfront, on the site was a huge old textile factory known as the Shelton Looms built in 1897.
They worked with cotton, and made different sorts of fabric, velvets and upholstery.
The building burned in 1975, and a lot of brush and mounds of dirt was all that was left.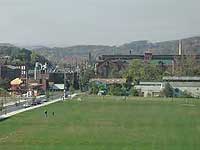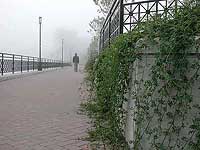 Now with this new riverfront, there is a place for residents to walk or relax, and enjoy the cool refreshing calmness of the Housatonic River.
Some people even throw in a line to go fishing. An old tiffany factory was nearby.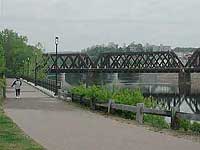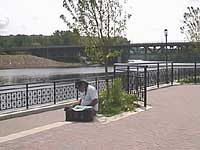 During the summer they show free outdoor movies on a big screen on the downtown riverfront green you see in the top photo. The movies starts at 7 PM at the end of July, usually on Saturday nights.
There's plenty of free parking. Bring your lawn chairs and popcorn. Come and have some fun! This is also where they have the fireworks.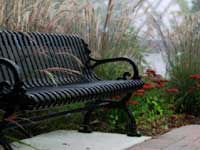 Derby CT Flood Picture 1955 Here is a picture of the flood in 1955. This view is looking towards Shelton, so Shelton is in the top of the picture. You can see the Shelton Looms factory, it is the long white building and has water all the way up to it. You can also see the railroad bridge and the downtown Shelton Derby bridge. It appears the major flooding was the Naugatuck River, which is the river in the foreground. The Interstate you see is Route 8. The Shelton Derby Dam is underwater. After this flood in 1955, they built levees so this would never happen again.
Old map of Derby CT 1876 - Old map of Derby - Note the covered bridge and how undeveloped Shelton is compared to Birmingham (Derby). This is before the Industrial Revolution even happened! So much happens to this town to change it completely in less than 20 years. You can see the first Shelton Derby Dam that was built in 1863 in the top of the picture. I wish I could tell you what is written on the map, but alas, I can't
Shelton's Covered Bridge
-
Shelton's Covered Bridge
- Shelton's first covered bridge spanned over the
Housatonic River
to the town of Derby, which was called Birmingham. This view is of the
Shelton
entrance looking towards Derby. The bridge was built in 1888. Some people wrote in their journals that it was a scary thing, walking from Shelton to Derby through the covered bridge. On the left in the distance, is the tower of the
Sterling Piano Company
. Also notice the telegraph or electrical pole on the right.
More Pictures of the Riverfront Area
- A picture of the spring carnival setting up on the green... riverfront carnival
- The spring carnival was rained out this year, but the days before it was nice... nice days
- Beginning construction of the new farmer's market... construction
- The back of the new Farmer's Market... Farmer's Market back
- The Farmer's Market sign... Farmer's Market sign
- View from the Farmer's Market toward the Veteran's Memorial... Veteran's Memorial view
---