Huntington Connecticut
The town of Huntington got it's name from Samuel Huntington, who was a signer of the Declaration of Independence and the governor of Connecticut in 1789.
By 1919 Shelton was officially established as a city and Huntington incorporated with Shelton.
During the colonial times it was a rule that the settlers had to live within one mile of the church, because it was safer, and the church was also the meeting house.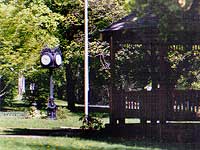 So, to live on land near the church was very desirable. Eventually the land around the church was divided by the residents.
When newcomers arrived to settle they established a three mile rule. They decided to keep an area of land close to the church common to all the residents, never to be sold. That is how the name commons or green was established.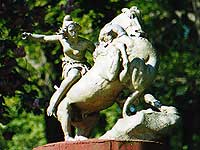 The watering fountain with the statue on top was a gift given in 1872 by Julia Nash in memory of her father, Lewis Curtiss.
They used a wooden pipe to bring the water to the fountain from a nearby spring. Later the fountain was moved to the edge of the green.
Shelton holds Concerts on the Green every Wednesday night during the summer. They call it Music Under the Stars.
The 2005 schedule is as follows:
June 22 - Parrotbeach - Music like Jimmy Buffett
July 1 - Funkestra - will be held in downtown Shelton
July 6 - The Center Street Band - will be held in downtown Shelton
July 13 - All - Star Dyn - O - Myte - Disco review, disco
July 20 - Gunsmoke - Country music
July 27 - Back in Time -Doo Wop music
Aug 3 - Mamma Jamma - Blues
Aug 10 - Highland Rovers - Irish Pop Music
Aug 17 - the Good and Plentie Band - Dance
All Concerts are from 7pm to 9pm Let's Go!
---