Huntington Fire Department
We don't have many pictures of the Huntington Fire Department, but we're not going to exclude them, because they are an important part of the City of Shelton too.
Huntington fire department was established in 1919.
Settlers were well established in Huntington before the surge of growth in downtown Shelton.
I have seen the firehouse by the historic Huntington green.
It's a new building that was built right where the old Town Meeting Hall used to be.
Large pictures of Huntington Fire Engine

Shelton Fire Department Emblem
This bottom picture is the Shelton Fire Department Emblem.
It is on the side of the Fire Chief's car.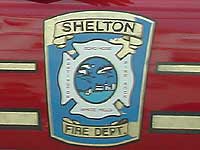 It has Echo Hose at the top
Huntington written on the left
Pine Rock on the right
and White Hills on the bottom.
The center graphic has some factories alongside a flowing river.
Also see some Derby Firetrucks
Derby Engine 3 - 16
Derby Hotchkiss
Derby Storm Engine 2
---