Civil War Reenactment
The Civil war did not rake place in Connecticut, but many of the men left the state to fight elsewhere.
These pictures are of a Civil War Reenactment held here in Shelton at the History Center Mayfest.
The men came dressed in Union soldier uniforms for the Civil War reenactment that took place at the Mayfest.
By the time we got there, they already had tents up and a campfire going, cooking biscuits for breakfast.
It was all so interesting to watch and we had to remind ourselves to take pictures.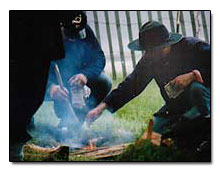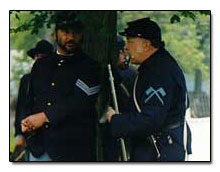 In the afternoon they had drills and made a firing line.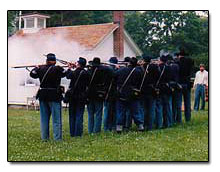 I wish I knew the name of this group, but they also show up in the Memorial Day Parade every year. Also in 1912 the Connecticut War Games were held between the Reds and the Blues. Read about it here.
More Pictures of the Civil War Reenactment
- larger picture of the firing line... firing line
- a picture of the rifles on the lawn... rifles
- a picture of the drum and rifles... drum and rifles
- Civil War uniforms... civil war uniforms
- Union Army solidiers... union army soldiers
- Soliers taking a break and enjoying the festivities... reenactment
Shelton History Center is located at 70 Ripton Road Shelton, CT - Phone: 203-925-1803
---