Jones Pumpkin Farm
Pumpkin and fall foliage season always starts in Shelton with a trip to the Jones Family Farms.
This holiday trip has become a tradition for many local families.
The Jones family provides hayrides, and all sorts of fun activities for the whole family.
They even have a small farm zoo.
You can enjoy some apple cider and pumpkin cookies as you browse the pumpkin patch looking for that perfect pumpkin.
They have a variety of decorative squash too.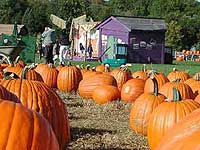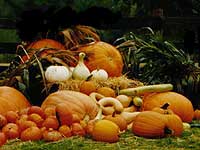 The Jones Family will make your holidays memorable. Every year they host a different theme, so it's always a surprise.
Have some fun at Jones Family pick-your-own Farms and don't forget to bring your camera. Directions to Jones Farm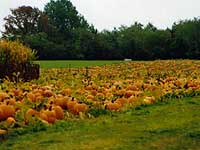 More Pictures of Jones Pumpkin Farm
- In 2005 the theme was the Wizard of Oz... entrance
- Here's what's inside of the entrance... welcome
- We put baby Alannah in a cart and pushed her around... pumpkin cart
- There was a warning on the gate... witch castle warning
- a pile of pumpkins in the corner... pile of pumpkins
- Baby Alannah likes the big pumpkin... big pumpkin
- But she settles for a little pumpkin... little pumpkin
- Let's go see the petting zoo... petting zoo
- A new addition to the pumpkin farm is a corn maze... cornfield maze
- Let's go on a hayride... hayride... here's a hayride view
- All the pumpkins you can carry for $29.00... pumpkin deal
- Stop and say hi to Professor marvel... Professor Marvel
- Now Jones Farm has wine... Jones Farm Wines
- They also had a band to entertain us and Alannah danced... the band
- The most amazing thing was the Jones's carved pumpkins... carved witch and carved Humpty Dumpty
- We bought some apples and cider... apples and cider
- Did baby Alannah have a good time? Let's ask her!
CT Farm Websites
Jones Farm
Lyman Farm Orchard
Bishops Orchards
---