Strawberry Farm in CT
Here's a nice strawberry farm in CT.
These are photos of the strawberry picking at Jones Family Farms.
All through the year there is always something going on at this Connecticut farm.
In June the strawberries get big, juicy and ripe.
When is the last time you had a fresh mouthwatering strawberry in you hand?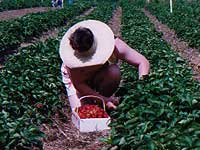 Everyone always has fun picking the strawberries. The toddlers keep themselves busy too, one strawberry at a time.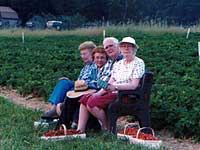 The Jones Family always go out of their way to make your trip to their farm entertaining and memorable.
They'll give you a ride out to the fields on their hay wagon and tote you back.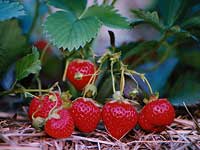 When you leave be sure to grab their favorite recipes for strawberries.
Strawberry jam and pies. How to freeze strawberries and many more favorites. Here's an example:
Jones Strawberry Pie
1 1/2 qt fresh strawberries
1 cup sugar
3 Tablespoons cornstarch
2 Tablespoons fresh lemon juice
Wash and cap strawberries, reserve half of the best ones. Mash the other half and add sugar and cornstarch. Cook 5 or 6 minutes until thickened and clear. Stir in lemon juice. Cool. Add reserved berries, saving some for garnish. Pour into a 9 in baked pastry shell. Top with whipped cream. For an 8 inch pie use 2/3's of this recipe. See more
Strawberry Recipes
Jones Blueberry Farm
Lyman Farm Orchard
Bishops Orchard
Blueberry Recipes
---