Colonial Crafts
Early American Trades
These demonstrations were all a part of the Shelton Historical Society Mayfest Celebration.
The Shelton Historical Society dress in period Colonial costume and demonstrate the colonial crafts and trades of early America.
Blacksmithing
This picture is of blacksmithing in Colonial America, in which also a foot pump was used to make the fire hot.
Smithing is one of the oldest crafts. It began with the first use of metal, and after iron was discovered smithing became increasingly important.
There are few blacksmith shops today in the industrialized nations of the world. This is because there are fewer horses to shoe, because wagons and carriages are now trucks and cars, and because tools and mechanical parts are now all made by machines.
Fly Fishing Tackle
This second picture is a colonist that is showing the audience how to make a fishing pole and fly fishing tackle from the hair and feathers.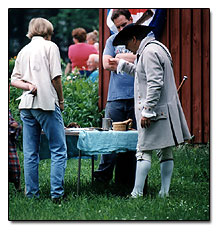 Chairmaking
This is picture is a demonstration of how they made chairs without electricity. He pumps the foot pump to make the ropes spin that cuts the wood. See one of his chairs in the foreground.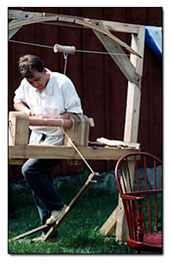 Women Before 1880
In this picture a colonial grandma is on the porch of the historical farmhouse doing her quilting. Before the 1800's women's work was diverse and endless.
They looked after the cleanliness of the house, made, mended and washed the clothes, prepared meals on the open fire, preserved foods, made soap, candles, and most medicines well into the 19th century, and also helped the men in the fields at planting and harvesting time.
On top of this, they would bear and rear an average of six children. The colonial woman was by no means a dainty or weak creature.
Until the American Revolution, at least ninety percent of the U.S. population lived in rural areas and farmed. Everyone pitched in to provide for the family needs, but there was a sharp division of labor by gender.
More Pictures of the Crafts
- a women sits and embroiders, she embroidered the vest she has on too... embroidery - in the shade
- larger picture of the blacksmith... blacksmith
- larger picture of the chairmaker... chairmaker
- the newly made chair... chairmaking
- larger picture of grandma quilting... grandma quilting
- a young lady sits and peels lemons... lemon peeling
These demonstrations were all a part of the Historical Society Mayfest Celebration. The Shelton History Center is located at 70 Ripton Road Shelton, CT Phone: 203-925-1803
---